Overview
Decawave UWB Radio, True Location

Bluetooth Low Energy, BLE

Near Field Communication, NFC

Configurable via web browser and RTLS Studio

9-axis IMU (gyroscope / magnetometer / accelerometer)

Barometer

External Power Supply DC 7 - 35V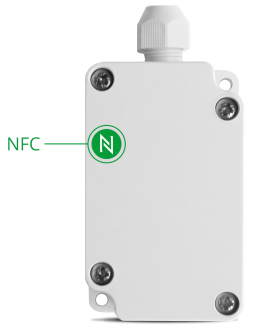 Tag Leonardo is an active mobile locator providing superior accuracy in real-time. Its position could be reported from milliseconds to minutes covering broad spectrum of applications from industrial projects to livestock. Battery lifetime goes up to years.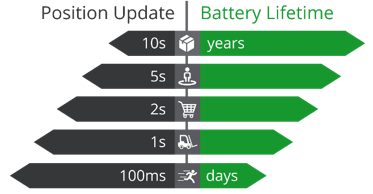 Feature Set
Feature
Description

🎯

Accurate positioning based on integrated UWB radio. Tag emits UWB blinks and RTLS provides precise True Location via API.

🔋

Motion detection unit enables to save energy. The tag may transmit only during the movement.

📥

Bluetooth interface is used for wireless firmware update.

🔧 Tag Leonardo Asset is configured wirelessly through RTLS Studio or via Android device through NFC interface.

NFC: Provides zero-spend energy reconfiguration. Tag Leonardo Asset might be reconfigured even without battery.

RAW DATA

SENSOR FUSION

3D ORIENTATION

📤Provides raw data from inertial unit for custom processing like hit/fall detection, jumps etc. or sensor fusion and 3D orientation.

Sensor End of Life

From December 2021, Tag Leonadrdo Vehicle does not includes gyroscope and magnetometer sensors. See block post in connection with HW change → News on Sewio Portal.

⚙️Available for Tag Leonardo Vehicle OEM.

Barometric measurement is not reachable on Tag Leonardo Vehicle since enclosure sealing.

Provides raw atmospheric pressure data or could be used for direct Z-axis estimation.
Switch on the Tag
Tag is initialized after it is turned on by holding the button for two seconds. For more info about the button functionality please continue here.
After the initialization phase, the tag sends location blink message periodically with given refresh interval. For time between position updates, the Tag goes into sleep modes. There are several sleep modes available suitable for different use-cases, please read more information here.

The blink message is received by set of Anchors and it is forwarded to RTLS Studio via Ethernet of WiFi backhaul, where position is calculated. The blink message can be optionally equipped with sensor data. All the data is further disseminated trough the API. First steps with Sewio Real Time Location System are described here.
Please note that LED and button is not accessible once the enclosure is closed.

Power Supply
Tag Leonardo Vehicle is designed for external power supply DC 7-35 V.
Polarity:
Red cable is POSITIVE
Blue cable is NEGATIVE
Tag does not contains battery.
Number of Tags within RTLS
Please read following section.

RF Profile
Please read following section.

Technical Parameters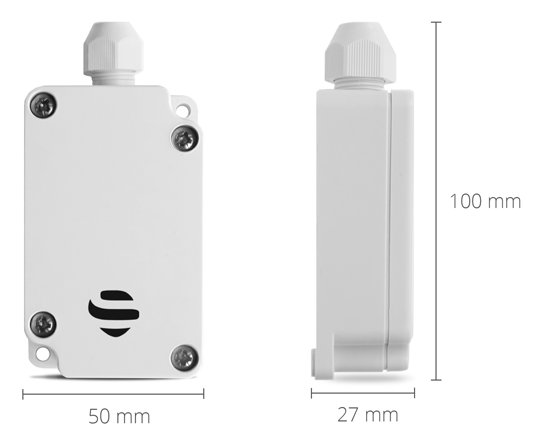 Size

50 x 100 x 27

Weight

104 g

Power Supply

External DC 7 - 35 V

Operating Conditions

-20 ~ 60 °C

20 – 85% humidity without condensation

Warm-up Time

Immediate

Maximum Refresh Interval
50ms / 20Hz
Absolute Maximum Refresh Interval*
10ms / 100Hz

Environment

Industrial

Warehouse Manufacturing

Retail

Livestock

UWB, Channel 5

6500 MHz / -41.3 dBm

Bluetooth Low Energy

2400 MHz

Enclosure
IP65
Approvals
RED/CE
*not recommended - might lead to sub-optimal server performance
Part Number
| PN | Name |
| --- | --- |
| SWT07-01-00 | Tag Leonardo Vehicle |
| SWT07-00-00 | Tag Leonardo Vehicle OEM |
OEM Part numbers does not include enclosures and are delivered in ESD bag.
Please read Tag Leonardo OEM Terms of Use.
⚠️

Safety and Proper Handling
Do not use deformed or damaged product or battery.
Do not modify the product.
Protect the product from excessive moisture.
Do not use the product if liquid has entered.
Protect the product from excessive heat.
Do not expose the product to excessive pressure.