Tags are small electronic devices that are attached to objects that need to be tracked. The tags send out blinks that are received by anchors and forwarded to the location server for calculating the tags' position. RTLS Tags are used for asset tracking, vehicle tracking, material flow analysis and employee location tracking for safety reasons.
Sewio UWB Tag Types:

Tag Leonardo Personal – a tag with wireless charging with limited set of sensor. Well suited for tracking people and finds most usage in entertainment, safety, retail, sports, museums and healthcare industry

Tag Leonardo Asset  – tailored to any asset tracking with NFC for identification and BLE for firmware upload. Right-first time choice for eKanban and material flow, benefiting customers in industry, intralogistics, warehousing and retail

Tag Leonardo Vehicle – for tracking vehicles with own power supply such as AGVs, forklifts and other in industry, intralogistics, warehousing, entertainment and go-karting industry
If you have older tag models Leonardo iMU or Piccolino, see page Other Tags.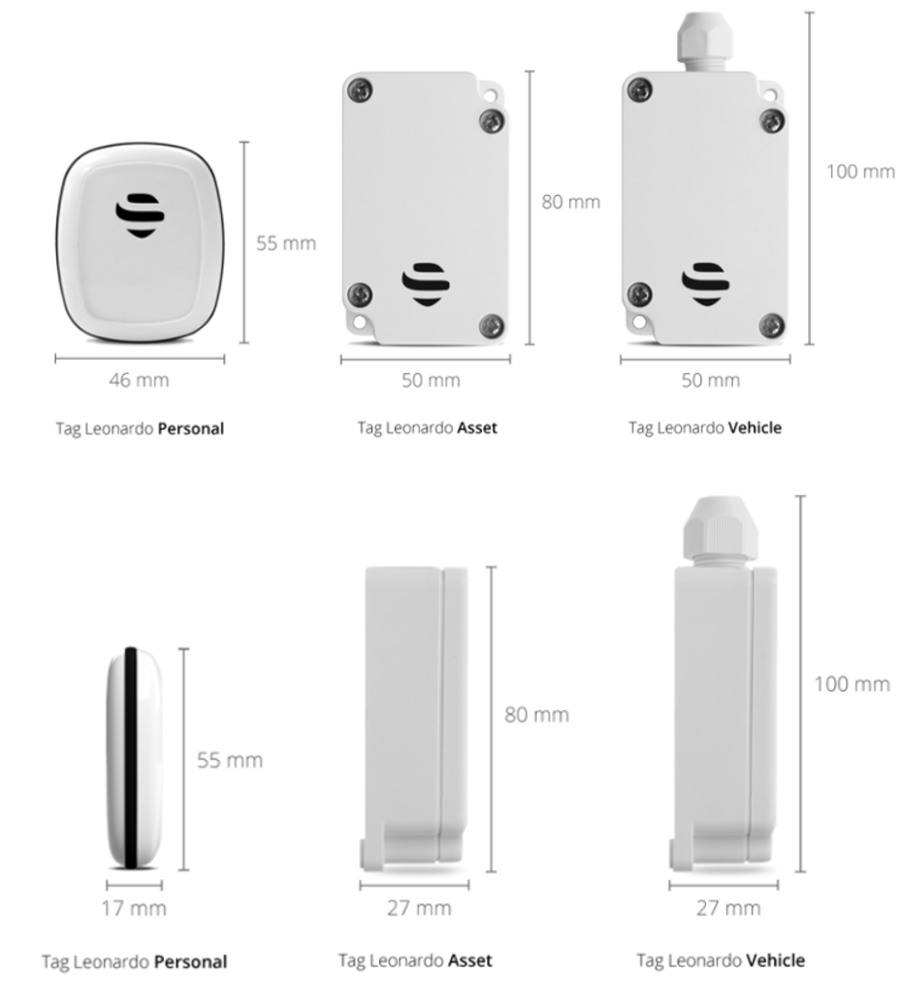 Tag Features Overview
See the strengths of each edition in the list and table below.





Power Supply
Feature Set
Sensors

Tag Name

Enclosure
Battery
Rechargeable

Wireless Charging
External Power
Motion Detection

BETA

BLE




Button
acc
temp
baro

LEONARDO ASSET

LEONARDO ASSET OEM

CR 2477 1000 mAh





(OEM only)

Li-pol 300 mAh

*

*

LEONARDO VEHICLE**

LEONARDO VEHICLE OEM**

IP 65


(OEM only)

(OEM only)
* Barometer/temp sensor are assembled from January 2021.
** Tag Leonardo Vehicle does not include iMU unit (gyroscope, magnetometer) due to the EoL from December 2021.