Overview
Decawave UWB Radio, True Location

Bluetooth Low Energy, BLE

Near Field Communication, NFC

Configurable via web browser and RTLS Studio

Power Supply Options

300 mAh Li-pol battery + Wireless Charge

CR2477 1000mAh coin battery

External power supply DC 7-35V

Sensor Options

Variants available

Tag Leonardo Asset OEM
Tag Leonardo Personal OEM
Tag Leonardo Vehicle OEM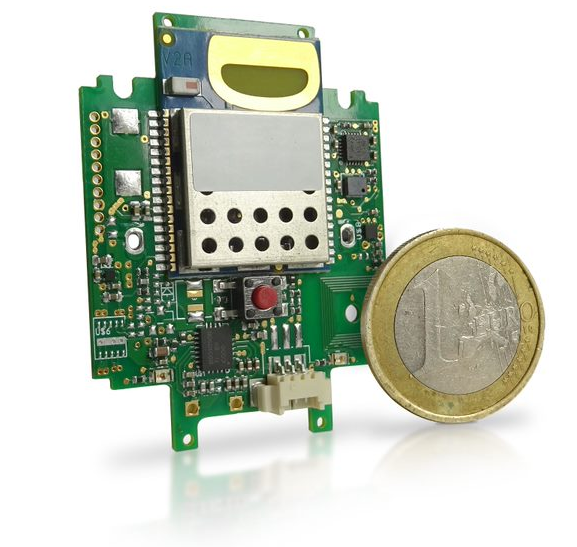 Tag Leonardo is an active mobile locator providing superior accuracy in real-time. Its position could be reported from milliseconds to minutes covering broad spectrum of applications from industrial projects to livestock. Battery lifetime goes up to years.
---
Feature Set
Tag feature set available on each Tag Leonardo OEM variant is described here (table at the bottom of page).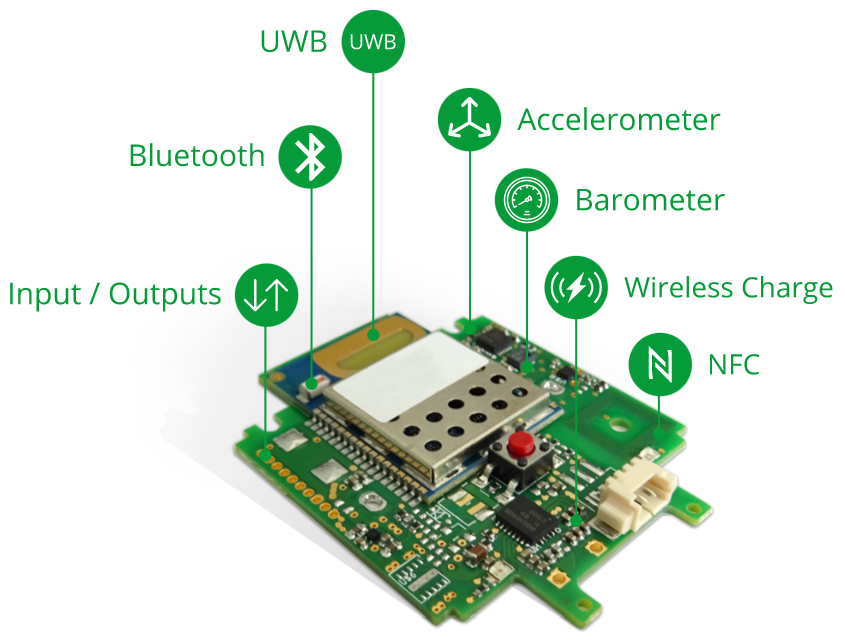 usage
description

🎯

Accurate positioning based on integrated UWB radio. Tag emits UWB blinks and RTLS provides precise True Location via API.

🔋

Motion detection unit enables to save energy. The tag may transmit only during the movement.

📥

Bluetooth interface is used for wireless firmware update.

🔧 Tag Leonardo Asset is configured wirelessly through RTLS Studio or via Android device through NFC interface.

NFC: Provides zero-spend energy reconfiguration. Tag Leonardo Asset might be reconfigured even without battery.

⚙️Provides raw atmospheric pressure data or could be used for direct Z-axis estimation. Available only for Tag Leonardo Personal and Vehicle.
Switch On the Tag
Tag is initialized after it is turned on by holding the button for two seconds. For more info about the button functionality please continue here.
After the initialization phase, the tag sends location blink message periodically with given refresh interval. For time between position updates, the Tag goes into sleep modes. There are several sleep modes available suitable for different use-cases, please read more information here.

The blink message is received by set of Anchors and it is forwarded to RTLS Studio via Ethernet of WiFi backhaul, where position is calculated. The blink message can be optionally equipped with sensor data. All the data is further disseminated trough the API. First steps with Sewio Real Time Location System are described here.

Tag Battery Lifetime
To read more about Tag's battery see section Tag Battery.
Also, see section about Charging and Storage Tag recomendation.
Number of Tags within RTLS System
Please read following section.

RF Profile
Please read following section.

Part Number and Dimensions
| PN | Name | Dimensions * |
| --- | --- | --- |
| SWT04-00-00 | Tag Leonardo Asset OEM | pdf |
| SWT05-00-00 | Tag Leonardo Personal OEM | pdf |
| SWT07-00-00 | Tag Leonardo Vehicle OEM | pdf |
*Mechanical 3D models are available via Tag Technology License Agreement.
⚠️

Safety and Proper Handling
Read Tag Leonardo OEM Terms of Use carefully.
Do not use deformed or damaged product or battery.
Do not modify the product.
Protect the product from excessive moisture.
Do not charge or use the product if liquid has entered.
Protect the product from excessive heat.
Do not expose the product to excessive pressure.