Product Stage: END OF LIFE
Overview
Decawave UWB Radio, True Location

Movement Detection / Sensor Data

Powered from coin battery CR2450 600mAh

Wireless Tag Configuration via RTLS Studio
Datasheet Factsheet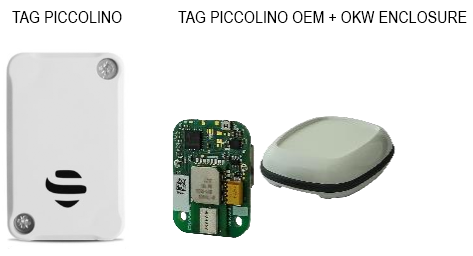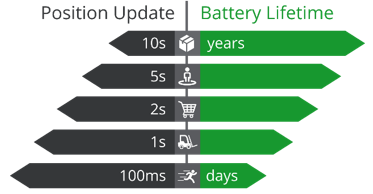 Tag Leonardo is an active mobile locator providing superior accuracy in real-time. Its position could be reported from milliseconds to minutes covering broad spectrum of applications from industrial projects to livestock. Battery lifetime goes up to years.
---
Feature Set
Feature
Description

🎯

Accurate positioning based on integrated UWB radio. Tag emits UWB blinks and RTLS provides precise True Location via API.
Switch on the Tag
Tag is initialized after it is turned on by holding the button for two seconds. For more info about the button functionality please continue here.
After the initialization phase, the tag sends location blink message periodically with given refresh interval. For time between position updates, the Tag goes into sleep modes. There are several sleep modes available suitable for different use-cases, please read more information here.

The blink message is received by set of Anchors and it is forwarded to RTLS Studio via Ethernet of WiFi backhaul, where position is calculated. The blink message can be optionally equipped with sensor data. All the data is further disseminated trough the API. First steps with Sewio Real Time Location System are described here.

Tag Battery Lifetime
To read more about Tag's battery see section Tag Battery.
Also, see section about Charging and Storage Tag recommendation.
Number of Tags within RTLS System
Please read following section.

RF Profile
Please read following section.

Part Number
PN
Name
SWT03-02-00

Tag Piccolino

(Industrial Housing)

SWT03-00-00

Tag Piccolino OEM
Tag Piccolino OEM does not includes enclosure, and it is delivered in ESD bag.
⚠️

Safety and Proper Handling
Do not use deformed or damaged product or battery.
Do not modify the product.
Protect the product from excessive moisture.
Do not charge or use the product if liquid has entered.
Protect the product from excessive heat.
Do not expose the product to excessive pressure.
DISCLAIMER
The information contained within this document is subject to change without prior notice. Sewio Networks s.r.o accepts no responsibility for any inaccuracies or omissions and specifically rejects any losses, liabilities, or risks, personal or otherwise, sustained as a consequence, directly or otherwise, of the use or application of anything contained within this document. To obtain the latest documentation, contact Sewio Networks s.r.o.
The user assumes all responsibility and liability for proper and safe handling of the goods. Further, the user indemnifies Sewio from all claims arising from the handling or use of the goods.