System Review (myRTLS Care)
The system review consists of several steps that are repeated every quarter or half a year based on your myRTLS Care Plan. The steps are planning, preparation, system review, and system review output with the next steps. It is a log and overview for all users connected to the site on myRTLS Cloud.
More about myRTLS Care and a detailed comparison of plans myRTLS Care and myRTLS Care+ can be found on Sewio website.
All agreed actions, meeting minutes, and notes are recorded in the section System Review in the Main menu on myRTLS.com.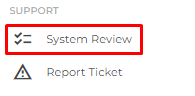 More details about each step can be found below:
Planning
The Customer Experience team monitors the list of scheduled reviews of each partner in the month and actively arranges System review meetings on a given date. The communication is discussed in a ticket on Sewio Service Desk. When a time and a date for System Review confirmed a partner/customer.
A part of the planning is the scheduling of a remote session that must be done before the System review meeting.
Everything agreed upon is recorded on myRTLS Cloud section System review.

---
Preparation
The alerts and reports on myRTLS Cloud will provide indications about system performance but to confirm the possible issues and the way how to fix them, the CX team needs to connect remotely to the RTLS server.
Therefore, the CX engineer accesses the RTLS server remotely for 30 minutes on the date as agreed during System Review planning. Based on the analysis of data on myRTLS Cloud for a given time period, the CX engineer analyses the root of the issues on the RTLS Server.
---
System Review
During the System Review meeting, a CX engineer go through all available metrics on myRTLS Cloud with you. The meeting will take 30 minutes.
System Review includes:
Current project status
Alert History since the last system review
Device Care History since the last system review
Automatic Reports
Clean-up
The meeting does not include any remote actions or RTLS setting changes. Sewio presents only their findings. During the call are agreed next steps upon and how unwanted states will be fixed.
---
Outputs and Next steps
After the review, you can find all findings and required steps to make RTLS fully operational noted on myRTLS Cloud.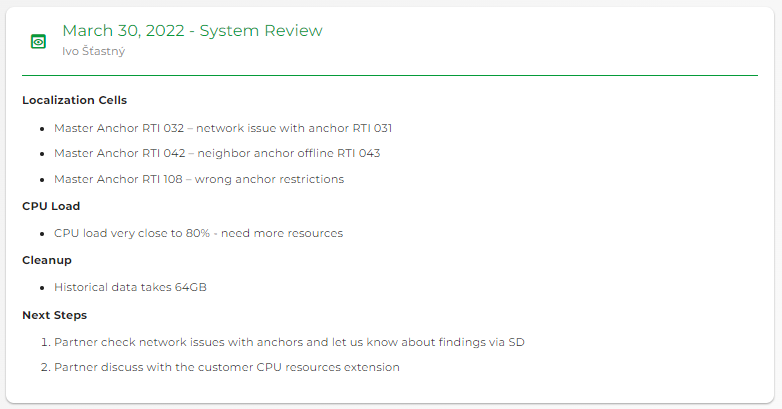 Steps or actions that happened meanwhile between system reviews will be entered into the log as Update.