RTLS Player - Playing Options
Archives
Upload a capture you created on your live RTLS Studio in the Backup/Restore section.
You can define what archives should be used.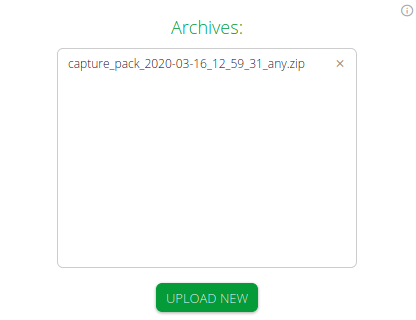 Config
Each installation has its own setting set in RTLS Manager → read more about config at RTLS Server.
Before playing you have three options on how to use this setting:
You can use System Config, which takes settings from actual RTLS Manager settings
As a second option, you can use Config From Archive, which takes system setting exactly from the archive and most accurately describes your system.
Lastly, you can choose your own config, where you can upload a valid RTLS server config.ini file.
RTLS Player Config Recomendations
For the first play of the new archive, we are recommending using the option Config From Archive, because this option set your cloud Player to state as your system is.


For next plays or for playing in the loop, of the same archive, we are recommending using System Config, because your last play updated this config so now the system config will correspond with the config from the archive and you can edit it through RTLS Manager. This will help you tune your system.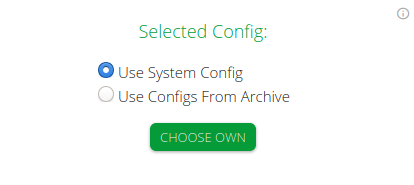 Player History
Simple log, which can remind users, of what and when we use this tool the last couple of times.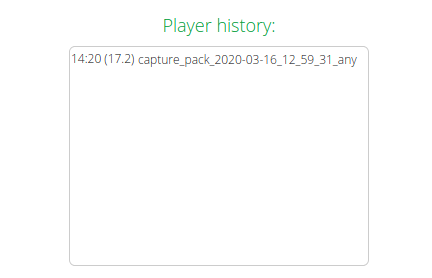 Options
Play in Loop
If marked, the capture will be played in a loop, when it comes to end, it will start to play again automatically. This can be stopped only by the skip button on the Playing screen.
Note: It works only when Use System Config is selected.
Filter a tag by MAC address
When playing the capture file, all information will be displayed as in real communication. This can be sometimes, especially when you try to debug some areas, difficult and unwanted. With this option you can choose one tag which will be shown, all others will be ignored (not shown in the system).
Import Anchor Restrictions
You can easily import restrictions from the RTLS Player and RTLS Studio.
From RTLS Studio 2.3.0 this functionality is available in RTLS Sensmap.
Export Anchor Restrictions
When you are working with your master restrictions within the RTLS Player. You can easily export them and use them in your real RTLS installation.
From RTLS Studio 2.3.0 this functionality is available in RTLS Sensmap.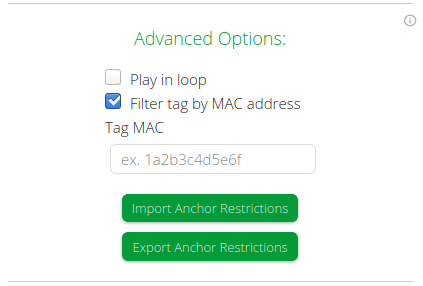 Time Period
After you choose which file will be played in the Archives section Selected time period options will be shown.
Now you can see in which relative time capture was taken (the time when the capture was recorded).
From this panel, you can decide if you want to play the whole capture, or focus on an exact time interval, which is useful in longer captures.