The best practice is to mount anchor Omni on a tripod for demo or testing purposes. You can deploy RTLS kit from the components included in the kit. Plus you need to buy tripods localy.
Anchor Vista Omni Mounting on Tripods
RTLS Wi-Fi kit includes Anchor Vista Omni (5x) and Tripod Adapter 1/4 Screw Mount (5x). Assembly the tripod adapter to the Anchor Vista Omni by whitworth 1/4" thread. When it is done, mount them to a tripod as on the picture:

You can find details as well as description how to assembly the anchors with wall mount bracket in the Assebly Guide: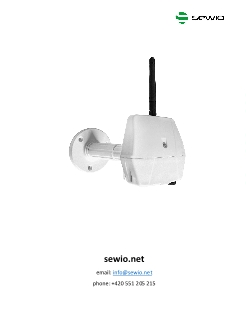 ---
Anchor Vista Omni Powering
Anchor Vista line supports powering just via Active or Passive PoE
Passive PoE also known as "always ON". Power is delivered immediately without negotiation.
Active PoE, PoE+ (IEEE 802.3af/at) standardized solution where power is delivered from power source equipment after a negotiation with powered device
Use included USB-to-PoE converter and cables (UTP and USB). Interconnect an anchor with a converter and a power bank you bought localy (not included). You can use velcro band to fasten the converter with the power bank to the tripod as shown below.

Download USB-to-PoE converter Assembly Guide here: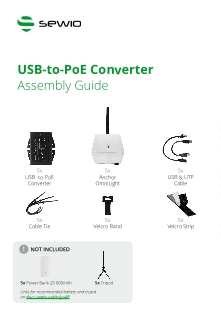 ---
Tag Leonardo Asset Assembly
Tag Leonardo Asset is coin battery powered. The two tags and two coin batteries are delivered within RTLS Wi-Fi kit. To make a tag working you have to insert a batteries into the tag. Below you can find an Assebly Guide where you can find all the details.