Tag Leonardo Firmware Update
Status BETA
Available on all variants of Tag Leonardo with FW 3.120.0 and newer.
Firmware update is done via Bluetooth Low Energy interface using device with Android 4.3+ or iOS 9.0+.
The battery capacity must exceed at least 40% (2.5V) for Tag Leonardo Asset and 10% (3.3V) for Tag Leonardo iMU/Personal otherwise the upgrade process is canceled.
Changelog can be found here.
Procedure
Install application nRF Toolbox for BLE from Google Play. It may not work on all mobile phones. Application is developed by Nordic Semiconductor.



Download FW package for Tag Leonardo from Sewio Partner Portal to your Android / iPhone device.



Open application nRF Toolbox for BLE.



Select DFU (Device firmware update).

5. Tap the "Select file", from popup menu select "Distribution packet (ZIP)", tap "OK" and find downloaded FW package in your device.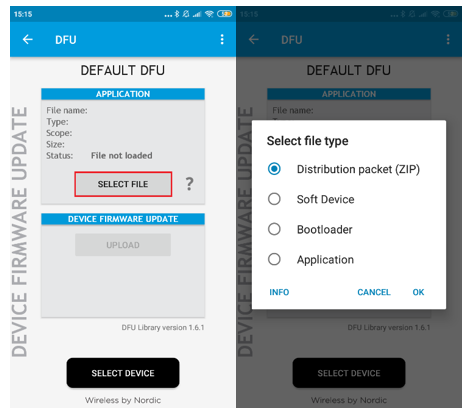 6. Select "All" and tap "OK"
7. Switch the Tag Leonardo to DFU mode: On the tag which is turned on press the button for 10 s (do not release the button when the tag signalize power off). Once the DFU mode is activated the USER LED signalize blinking very fast. Now the tag sending Bluetooth advertising.
8. "Select Device" and select "Tag Leonardo" in nRF Toolbox tap.


9. Tap the "Upload" FW upgrade takes typically 20 - 90 sec. depends on Bluetooth version within the mobile phone.
10. Once the update is complete, the tag will be restarted and the new FW should be started.
Known Limitations
following devices might not work with the nRF Toolbox application: