Power Supply Options, Anchor 1.4
Power Supply from USB – DC 5V, 500mA, battery power bank or USB Adaptor with maximum cable length 1.8m.
Do not use longer USB cables, since cable voltage drop can cause instability of the device.
Alternatively, Anchor can be powered from DC 48V supply via PoE Injector. Power is injected and delivered into unused Ethernet pairs (Pairs 4,5 positive terminal, 7,8 negative terminal).
Recommended power adaptor PN: GS36E48-P1J or GST36E48-P1J Meanwell. Available through whole-sellers Mouser, Digikey or Farnell world-wide.
Contains DC Jack, PoE Port and Lan port.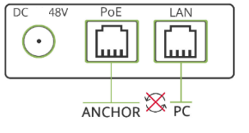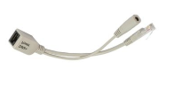 Multi-port Injector for 19" rack
"Data LAN" ports are connected to the network Switch, "Power+Data" ports are connected to the Anchors.